My Own Notes from the Underground: Defying Anxiety, Anger, and Depression 08 Dec 2020 

Today was another bad day. This time not until 11 am, did I get out of bed,  with the mysterious crashing of my easel which got me up thinking my cat was the culprit. No she looked too calm, and there was no no "ah hah look on her face, or "spooked" look on it either.    Amazingly the damage to the easel was extremely minimum, so I'm taking it as a divine warning.  On some level, Depression indeed is a decision one makes…a habitual one, but one none the less. So I put on some mascara, eyeliner and lip gloss; I showered last night, which was a plus because I could feel myself descending into the darkness last night… 
Somehow the evenings are the darkest for me…. 
So tomorrow I hope to report a better morning, and a better evening. Where I go to bed at 11:30 pm, I get up at 4:30 am and I make the internet more productive for me. 
But Today: 
Art projects today: continue painting the one American Spirit Under Attack Painting, and then for an artprint project, start working on the Christmas Card Design, drawing it. I got inspired today by a printer I am following on Instagram.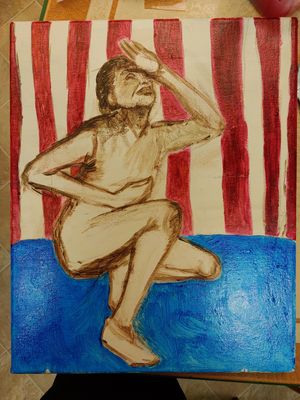 Music the same as yesterday, which I actually didn't get to, so I have to do it twice today. 1 hour now, and 1 hour before bed, and also I need to set a new alarm for 8:45, because I don't want to be stuck doing work at 9 pm when it is time to pray. 
Evening Prayer Rule: That means to stop any project by 8:45 pm.  Save, Get up and walk away and prepare for the 9:00 pm Time to Pray alarm.  
It's is hard clawing back to a will to live, especially if it was crushed at a very young age, and one clung to worldly ideas of "life", it is difficult to on one's own to heal a crisis of the will, to be, not as the world would have you be, which is a type of death but to live according to life: the life that is death to the world within us…this is the path…and I could be pretending that this path is easy for me, not ugly, nor messy, inelegant, or foolish,  or not pathetic, or not dangerous in a  ruthless and cruel world, where everyone is happy; no it is no not without my warts and blemishes and wounds which I wear on my sleeve, I'm not that happy girl that can make you laugh, I'm that girl whose warts show up  very publicly at times anyway, where my warts are shown to me, and I must live in deep abasement for the thing that I have become without my knowing it even though I have tried so hard to out run it. 
The Album I like right now is : The Fisherman's Woman.  Emitianna Torrinni  
So here is another reading from "Time and Despondency …oops. I misplaced it…. This happens sometimes. I think it will be a pacing day today, but I hope to get some tasks done today that will position me better for tomorrow.   I will explain the pacing tomorrow. But since I have found the book, I will read a paragraph from it:  Yesterday we had the description of Despondency. Today, Evagrius gives it a name. Acedia.
 So to commence: "Evagrius gave the beast a name: acedia.  In English, Roccas uses the term despondency,--It evokes for her, the sticky web of sadness and rumination, the ""strange laziness and passivity of our entire being which always pushes us down rather than up."  Roccas 
And that is the reading for today. As I was writing this, I was thinking about what was my trigger.  And yes, it is sad to admit, it was me grappling with loneliness. But I chose this loneliness, there is the loneliness of the artist, which is necessary to do art, but there is also the loneliness of not being loved, which is soul-killing. I thought at one time, I had found such a person, but my wounds, sabotaged it all  I have a deep inability to trust the providence of God.
But God has given me much despite this loss.  I hope I do not fail HIm in the one thing that He Has given me: Work as an Artist. ... 
Anyway, Thus Ends my Notes for Today. May God Grant You All A Fruitful Day in the Lord.