My Own Notes from the Underground: Defying Anxiety, Anger, and Depression 10 Dec 2020 

Okay, today was better. But for some reason having a hard time getting to bed before 1:30am. The good news is that I was able to knock out some articles, for my KithandKinObserver.com Blog, and tonight After painting a little, and doing some print thumbnails for to develop another print artwork,  I'm going to finish my news vlog, and try to gather news for a Sunday analysis, vlog.  They say you have to at least post twice a week.  
Today I decided to sell two or three of my very limited edition Raven art print.  I'm going to sell them for 75.00 each on Facebook, via the stories feature they have.  Thinking whether to have it be an auction like sale or a retail sale. If Auction sale it will start at 75.00. Spent some time today setting up the store.   I had to figure out how to sell both the art and the song on the same page on Facebook. Bandzoogle already has it figured out for you. Must figure out how to sell the Art and the Song on that page, they only give you one button, and the button to my musician page you cannot change. It goes straight to my news page on Youtube. 
It's always something. Life on Earth. Get used to it. My friend sent a recent release of Tom Petty. The Song "Something Could Happen" I guess we are the only two people in the world who like Tom Petty because we guessed rightly that at a young age he may have been an abused child. 
Art Project: Today's Progress.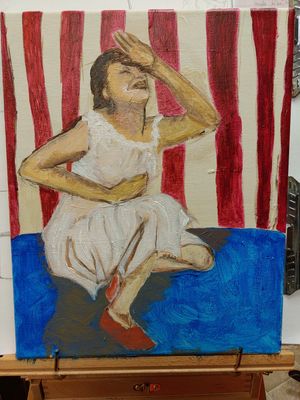 Music: Still did not get to the scales of the music and the practicing of the guitar. Will speak on that in a few minutes, perhaps. It's a battle, and I don't know why. I might get there tonight.....God willing, well, I'm sure but it's me that is the problem. 
Video: Finish the videos. Hopefully, I can report on that tomorrow. 
Art Prints: Making Thumbnails for Art Print project. The plan is to do six. My motif inspirations are Orthodox Church Ornamentals and Plant Life. Not very original. I hope to make these a series of two prints, with one color or two-color or three-color process. sell for 100 a pair. 3 sets of two. I have to make six more sketches before I get down to work.  Getting excited about it.  How many of each set, probably just 15 of each set of two, so a total of 90 prints. Yes, that will be a lot of work, and I won't post them in the store until they are all done, which will be around Springtime, I think. You want to take your time carving these things.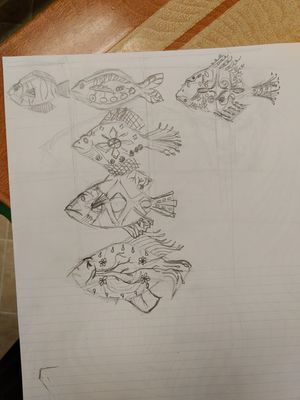 Reading Today: Time and Despondency Regaining the Present in Life and Faith :
"The apathy of despondency is not to be confused with apatheia, the condition of being untethered to passions and demons, which the Fathers praised.  In despondency, we fail to care about things that should actually matter to us, such as cultivating a life of spiritual effort or seeking the well-being of our neighbor.  Once apathy infects one corner of our lives, it quickly metastasizes elsewhere.  As soon as we start neglecting prayer, we find it easier to disregard our chores, or our children, or the homeless man on the street." Roccas
Having been in and out of therapy since around 6 years old, I find it interesting that this authour starts the talk about despondency, in how it makes you somewhat self-centered, and unable to care for others, much less able to care for one's own soul. That connection to the other emphasized right from the beginning.  I think a little of the time that I have when I have been in so much pain, and not able to see the pain of others...in so much fear so that I'm unable to let others in.  Or even to let go of those who which to claim me as their own, but otherwise, who are of no functional relationship to me; and my adherence to them on their misunderstandings of reality will surely separate me from God if I allow myself to be led by a such false loyalty.
Anyway, Thus Ends my Notes for Today. May God Grant You All A Fruitful Day in the Lord.