My Own Notes from the Underground: Defying Anxiety, Anger, and Depression 07 Dec 2020 
So today is Monday, and I got up very late….around 8:30am. 4 hours later than I had planned.  Yesterday in spite of myself I got to Church on time.  The day went well, except at night I did not go to bed until 1:30am…better than most nights when it has been around 3 or 4 am. Stressing. 
 I had a nightmare about a political figure on the left, and I don't want to talk about it right now.  I think I can parlay it into some type of political art.  It had to do with what is the concept of family…that the left is trying to perpetrate onto us, something alien, and not from God. Okay, it was Obama and he kept turning into a woman, and then a man, then into a black man or woman, and then a white man or woman,  and not answering my questions .  
I've been having interesting dreams lately.  The other day there was a dream about the Choir Director. She is a very good human being…and she pushes me. Even when I feel as though I'm unable. Singing is so emotional for me…she makes me sing past the panics. And in public. And before God…it's amazing I'm able to…. A blessing. I must count my blessings. All my life, people have been trying to convince me that I do not have anything to give, and if I did, who would want it… and what I have is not good enough. Perhaps God gave me something, and perhaps He is the one to receive it, but not only for Him, because He wants me to share it, too. That's just like God, to demand such things. I'm learning that He somehow makes us limp through the brokenness to get to the wholeness.  But the PaNICS!!   THIS blessing is dragging me through the brokenness of my panics. Listening to her, Obeying my choir director is confronting a broken person from my past. And I can't use the past  as an excuse… 
Promise I'm making today:  to every day do something with the art. And the music. And to dress up for work, at home work,  in a very casual way. I bought some mascara. And some eyeliner a while ago.  Just bear with me here…..this is a Krista West sanctioned moment, an Eastern Orthodox Woman. I will perhaps Explain in a future blog. 
Music: Today it is scales, and the fretboard, and a folk song, and getting the classical guitar in tune. Preparing for Friday Night, songs from my childhood show. Try to think of something witty to share, like a HeeHaw riddle, but a even cleaner show.  See my Friday Show on Instagram to see how well I practiced, starting on 25 December 2020.   (Yes, I know that is Western Christmas Day). 
Art: Today I began the repainting in acrylic of my American Spirit Painting. My friend said I made the head too big…so I wanted to correct that. Starting it all over from scratch. Amazing I got through ArtSchool.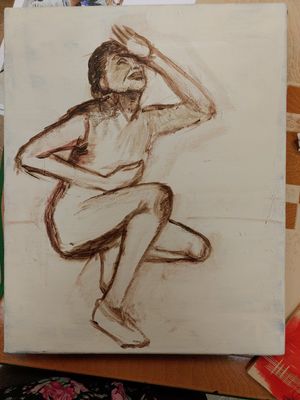 ArtPrinting:  Last night I prepped the press bed, (got rid of some scratches, and put in some guidelines on a piece of acetate, and taped it to the bed).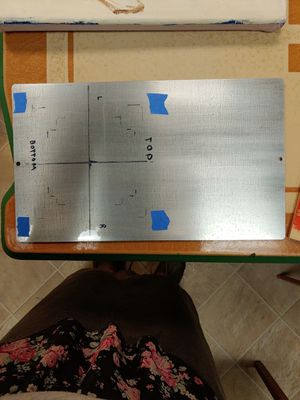 Reading To Share: Today I will begin reading  a few words of the book Time and Despondency, Regaining the Present in Faith and Life,  a book about Depression from an Orthodox Christian perspective. I suffer from Depression and I'm reading this book during this Fast  to try and continue my progress against it:  
 From the first paragraph from the book which describes Despondency: 
"Restlessness, Rumination, Torpor, Sloth, Distractibility, Disinterest, Despair—these are the symptoms of a ruthless interior sickness whose spiritual ramifications were first described by Evagrius Ponticus (d.AD 399), a humble ascetic father deep in the Nitrian Desert of Egypt. Evagrius observed that some monks were unable to endure solitude—not to mention prayer, labor, or other quotidian tasks—for any duration. He would find them outside their cells, visiting others, or staring listlessly at the sun.  They disdained their surroundings and any tasks placed before them.  As Evagrius monitored these monks, he came to realize they suffered from a crippling inward condition that gradually drained all vitality from their lives.  In their ennui, monks sought to escape through excessive sleep, socializing, or aimless reading.  Yet even these pastimes quickly lost their appeal, pushing the monks further into their desperate, anxious idleness." Nicole Roccas. 
I'm warbling through a cover of Woodstock here.  I think I Christianized it a bit.  Anyway...
Thus Ends my Notes for Today. May God Grant You All A Fruitful Day in the Lord.